Dreadnought Guitar
Playing the Guitar can be a wonderful and exciting experience. It teaches us discipline and helps us express our artistic ambitions. Through the combination of artistic imagination and the mastering of different techniques, we are able to enjoy beautiful, inspirational and exhilarating music. There are a variety of different types of Guitars and over the last 80 years the design of Guitars has changed increasingly fast.
One such type of Guitar is the Dreadnought Guitar. Named after a British WWII class of Battleship, these type of Guitars were originally developed by the C. F. Martin & Company.
Today, there are a wide variety of Dreadnought style guitars. From a 12 string guitar to Epiphone guitars, Alvarez guitars, Taylor guitars, Yamaha guitars, Guild guitars and many more. As you can see, today, the guitar industry has embraced the basic Dreadnought design, and everyone has their own unique spin on it. A Dreadnought guitar can either be an only Acoustic Guitar or an Acoustic Electric Guitar as they are especially designed for and utilized in Bluegrass, other types of Folk Music. Another very popular style of music that a dreadnought guitar can be used for is that of Country Music. In fact in the early days when dreadnought models such as the D-28 made their way into the world of music many artists were bothered by the deep bass quality with the large exception of Country Music artists. The larger size of the instrument provided an excellent sound to often replace a bass instrument as a complement to vocals, and other less deep resonating string instruments.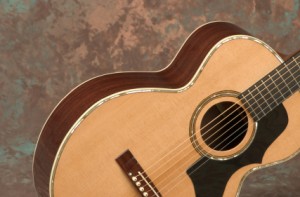 What is a dreadnought guitar?
When dreadnought guitars were first manufactured and for many years after that they're were only acoustic varieties. Today we also have dreadnought acoustic electric guitars, however on this page I want to explain the specific qualities of the purely acoustic guitars. A quality dreadnought acoustic guitar is made up of solid woods like Mahogany, Rosewood, Koa, and spruce. A general scale length is 23 to 26 inches long with 14 open frets of about 20 total. When choosing what type of Acoustic Guitar to buy it's easy to get lost and confused looking among thousands of different kinds of them. The basic requirements of a guitar depend on the specific purpose for which you are purchasing a guitar. Is it for an adult, or a child? Is the Guitarist at an advanced, intermediate, or beginner level of playing, what kind of price do you want?
The essential difference of a dreadnought guitar from any other one is that dreadnoughts are much larger in physical size. So, if for instance you're looking for a guitar to start out with then a dreadnought may not be the best choice because they are more expensive and repairing them will cost more than a smaller model. Once the guitarist has learned an appropriate level of appreciation and skill for guitars and guitar playing then I would consider looking into getting a dreadnought. However in some cases there are dreadnoughts that are suited for particular beginners such as the Rogue RA-090 Dreadnought Acoustic Guitar, Natural. When you do decide that is time for a dreadnought there are even still a great variety of them. In order to better help you make the best possible choice for you, be sure to check out our Dreadnought Acoustic Guitar list.